Veggie burger recipe with cauliflower & harissa dip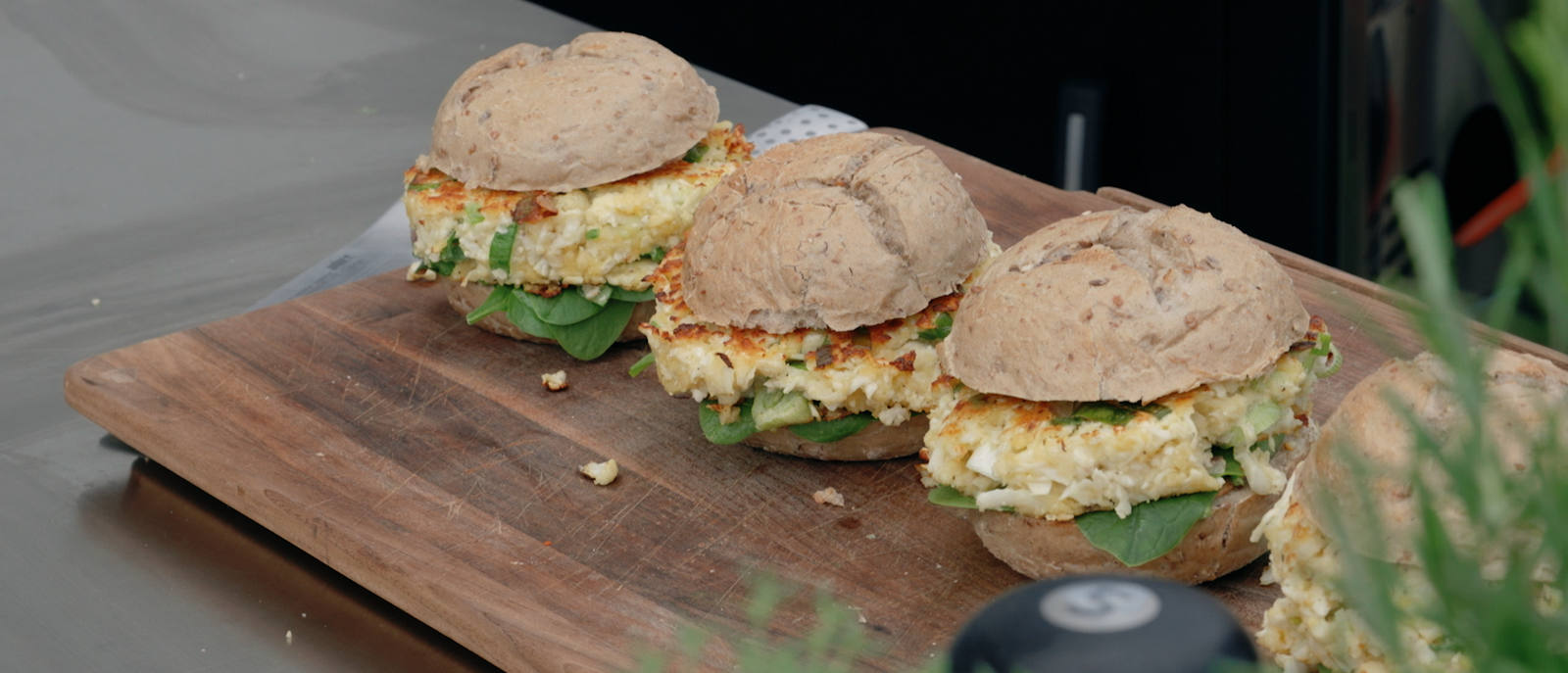 Delicious, packed with protein and crunchy too: grill master Mitch shows you his favourite recipe for veggie burgers and reveals what spices and ingredients are essential.
Quick and healthy: the veggie burger

The problem with many ready-made products is that you don't know what's in them. And reading the list of ingredients still leaves many people with questions. So if you want to barbecue the healthy way while magicking up a tasty burger, it's best to rely on your own cooking skills. And the good thing is that it doesn't have to take a lot of time.

Packed with protein and nutrients

The ingredients make a big difference as including quark and eggs in the burger ensure it contains plenty of protein. At the same time, the finely chopped cauliflower gives it texture and an extra portion of nutrients. The harissa in the dip is also key to the flavour, adding just the right degree of spiciness to the recipe.

Ingredients for the crunchy cauliflower burger

4 ciabatta rolls
100g fresh spinach
300g cauliflower
120g panko breadcrumbs
2 spring onions
1 red onion, peeled
120g skimmed quark
4 tbsp. olive oil
3 eggs
Salt, pepper, cayenne
Harissa dip for a touch of spice

160g skimmed quark
2 tbsp. harissa spice
salt, pepper

Chop the veg and form into patties

Remove the thick stalks from the cauliflower and grate using a grater.
Dice the onion and cut the spring onions into thin rings.
Put all the ingredients (except the oil) together in a bowl and mix well with a spoon so that everything still has texture but sticks together.
Shape into cauliflower patties using a burger patty mould or by hand.
Make the dip by mixing all the ingredients together in a bowl. Place the spinach in a bowl and marinate in a little olive oil, salt and pepper.

On the grill

Heat plancha or grill pan to around 220°C in the direct zone.
Drizzle with olive oil and grill the patties on both sides until golden brown.
Cut the rolls in half and toast lightly on both sides on the grate.
Assemble the burger

Place the spinach on the ciabatta base, add the cauliflower patty on top and brush with the harissa dip. Add the ciabatta roll top and enjoy your burger.

Premiums for 2024 at a glance
Well looked after with CSS